EVENTS ANNUALLY/MONTHLY*
We have fantastic workshops, juried shows, and field trips throughout the year. Become a member and join in! Attend our monthly meetings or keep up with the updates at the Photographers of Dripping Springs Facebook page. Every meeting we strive to have either a guest speaker or a tutorial.  There will be times when we have photo challenges and critique. Guest speakers will present immediately following the business portion of the meeting.
2017
"America" -PODS Print Show with the A Smith Gallery in Johnson City- May 26 to November 05, 2017
PODS is proud to be a part of the current A Smith Gallery Photography Exhibit "America" showing at the East Main Grill in Johnson City. This show is comprised of photographs from members of the Photographers of Dripping Springs (PODS), the Hill Country Photo Club and the Austin Shutterbugs. The exhibit will be running from July 26th to November 05th, 2017. The East Main Grill is located at 209 E. Main Street in Johnson City, Texas.
*****FREE INTRODUCTION TO PHOTOGRAPHY CLASS*****
FREE PUBLIC ENROLLMENT, BUT CLASS SIZE LIMITED
July 29, 2017 – 10:00am to 4:00pm
Photographers of Dripping Springs
Introduction to Photography Class
Instructors: Michael Penn Smith, Doug Gephardt
Mentors: Other PODS Veterans
Date: July 29, 2017
Time: 10am – 4pm, with a lunch break
Location:
Dripping Springs Community Library – back meeting room
501 Sportsplex Drive
Dripping Springs, TX 78620
Class Description:
Section 1: Basic Digital Photography
Basics of photography, using any camera you have (camera-phone, point&shoot, dslr, etc). Building a solid foundation in technique, but also composition. Emphasis on refining and sharing your photography, and increasing your enjoyment.
Lunch, 1 hour, no eating in library classroom
Section 2: Moving to Mastery
We'll start from where we are as a class, and look to identify steps to greater mastery of photography. Getting conversant with manual camera settings, seeing and using lighting, refining composition, challenging ourselves w/ shooting assignments. We'll explore photography as a skillful and rewarding way of being in the world.
Requirements / What to Bring:
A digital camera! Anything will work for Section 1. To maximize what you can get from Section 2, you'll need a camera with aperture and shutter priority modes as well as full manual mode (P/S/A/M on mode dial, or P/Av/Tv/M): this would be a DSLR, Mirrorless camera, or advanced point and shoot.
MANUAL: the manual for your camera. Paper version if possible, otherwise PDF downloaded on something you can view easily
A laptop with card reader if you'd like to make it easier to view photos. **This is optional** If you don't have a laptop – don't worry you can still participate without one.
How to Register:
Please email Doug Gephardt (mailto:douggep@gmail.com) if you'd like to attend, with:
name
good email address
contact phone number
make/model of your camera
Subject line should be "Intro Class Registration". You'll be told via email if you landed a spot or if you were put on the waiting list.
January 04- April 05, 2017
The Photographers of Dripping Springs are proud to announce our photography show in Johnson City, Texas. In conjunction with the A Smith Gallery, we are currently exhibiting 27 images from 12 of our photographers. The show is located at the East Main Grill at 209 E Main Street right in the heart of Johnson City. The show will be running until April 05th, 2017 so there's plenty of time for you to go see it. There will be an artist's reception in February- details will be announced later.We would like to extend a huge Thank You to the A Smith Gallery and the East Main Grill for hosting this show for us. For more details please visit :
http://asmithgallery.com/art-wall-pecan-street-brewing/
2016
May 21- May 27, 2016
Mark your calendars for the PODS Spring Show – May 21st to May 27th at Hudson's on Mercer (http://www.hudsonsonmercer.com/)
The artistic talents of Dripping Springs will be on display in photographic form this month from the 21st through the 27th at Hudson's on Mercer, where the Photographers of Dripping Springs are presenting their annual digital show themed "In and Around Dripping Springs".
This year's show spans the work of thirteen artists, as selected by judge Rama Tiru of Austin. An adjunct professor at Austin Community College, Ms. Tiru is the artist and author of the coffee table book Austin: East of I-35. She has chosen the finest photos from the Club's members, representing a variety of different styles and techniques.
The selected photographs include landscapes, portraits, nature, abstract images, and more. Chosen for special recognition in the show are Dave Wilson, Michael Penn Smith, Pamela Ward, and Winifred Smith. Along with the contributions from the rest of the club, this exhibition aims to showcase the flavor and experience of our beautiful community.
With their motto "Keepin' Drippin' Clickin'", the Photographers of Dripping Springs have been very dynamic, from monthly field trips to workshops, and serving as the city's official photographers for its many publications. The membership is active and always developing, as the growing quality and diversity of the works selected to show gives testament. Members range from enthusiastic hobbyists to published professionals, and the works on display employ everything from expensive SLR cameras all the way to an iPhone, so there's a place for anyone with a passionate eye.
The opening of the show will be celebrated with the artists on the afternoon of Saturday May 21st, beginning at 4:00pm at Hudson's on Mercer, a hub for performance arts in the town. Stop by
through the following Friday to enjoy this fine art exhibit as well.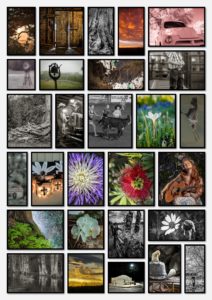 March 05,2016 Texas Night Sky Festival
Please join us at the Texas Night Sky Festival which will be held tomorrow March 5th, 2016 at the Dripping Springs Ranch Park.
Participants will join in fun citizen science activities, learn from engaging speakers and exhibits, see examples of good lighting for their home or business, view school projects and competition entries focused on protecting the night sky, feast at the food trucks, take home a book or work of art inspired by the night sky, earn a related scouting badge, or explore the stars.
The Hill Country Photography Club and the Photographers of Dripping Springs are co-sponsoring a Photography Contest. We will be showing an exhibition of the images selected by Andy Heatwole. We will also be announcing the award winners.
For more information please visit: http://texasnightskyfestival.org/
2015*
November 16, 2015-February 22, 2016 PODS Print Show and Sale in Johnson City
Images taken by seventeen PODS members will be on exhibit at the Pecan Street Brewery Art Wall in Johnson City. The show will run from November 16th to January 18th. This show is in conjunction with the A Smith Gallery.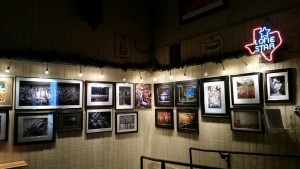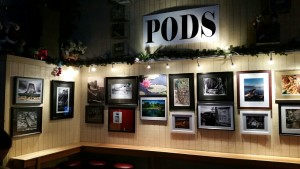 October 10-17, 2015 PODS Annual Print Show and Sale
Our Annual Print Show and Sale was held at the Wesley Gallery in Dripping Springs, Texas. We had 18 photographers present their work this year. The theme of this show was "Monochrome", which encompasses straight black and white images alone with similar styles such as old-fashioned sepia tones, cyanotypes and more. This year's show spans the work of eighteen artists, as selected by judge Carla Ellard. She has been the Curator, Southwestern & Mexican Photography, at the Wittliff Collections at Texas State University since 2013, where she started as Assistant Curator in 2000. Having previously juried other photography shows for the A Smith Gallery, Seguin Art League, and Texas State campus photography club, Ms. Ellard has chosen the finest photos from the Club's members, representing a variety of different styles and techniques. Our first place prize winning photograph belongs to Dave Wilson, with second place going to Janis Cowell, third place to Mary Hulett and honorable mention to Doug Gephardt. Congratulations to the winners and to all the photographers that participated this year.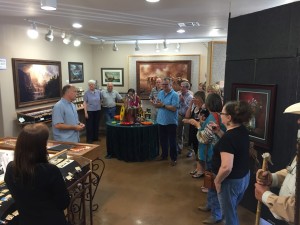 PODS Post Processing Workshop was held on February 28,2015 with guest speaker and PODS member Jorgen Hog.The post processing workshops are run by Doug Gephardt and Jen Kuykendall. They will continue throughout the year and available to all members.
WE ARE THE OFFICIAL PHOTOGRAPHERS OF DRIPPING SPRINGS!